Our Brands
AEBG is home to more than 57,000 yearly dance lessons to students and nearly 1,600 alumni with a wide variety of interests, ages and backgrounds — and counting.
Our online content additionally attracts a passionate audience of 3,200 unique monthly local residents that love to live, work and play specifically in the Irvine, Tustin, Lake Forest, Laguna Hills and Newport Beach area. These young, affluent and avid dance students, parents, teachers, and dance studio owners and operators organically consume more than 2,300 weekly page views of AEBG content that relate closely to women's personal and professional lives in dance.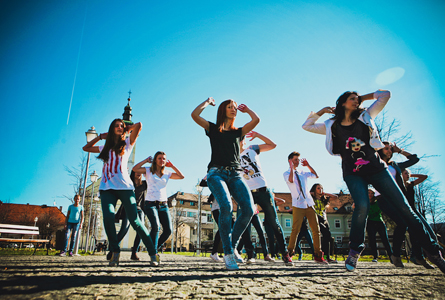 DanceLova is an online retailer of dance apparel. It offers premium quality dancewear while maintaining mid-range affordable prices. DanceLova's approach to design is closely linked to its customers. Its ideas for creative product lines have been shaped by the desires and demands of its customers. The brand promotes style, individualism, and confidence.
DanceLova Dance Academy is DanceLova's own dance studio brand. The Irvine, CA branch opened in August 2012 offering dance education to most age groups. A second branch in Tustin, CA is being considered. A variety of dance classes including classical ballet, jazz, lyrical, hip hop, and world dance are offered. The brand aligns itself closely with the characteristics of a good lifestyle including self-discipline, health and positivity.
The Danceful is an online destination that caters to audiences that crave for the stories, how-to's, inspiration, videos, and industry updates that matter in the world of dance. Its mission is to empower dance students, parents, professionals, and dance school owners with the information for making the decisions in their academic, professional, or entrepreneurial dance life.
DanceSoda is an employment-related website for dance job listings. It is primarily used to help dance professionals seeking work to find employment openings and contract work opportunities that match their dance background and location. DanceSoda allows job seekers to apply directly to jobs on its website as well as resume posting and storage.
Dance Answers is an internet-based knowledge exchange. The reference website is solely dedicated to dance-related topics. It uses wiki-based technologies to offer a community-generated social knowledge Q&A platform for its users, which are primarily dancers, choreographers, teachers, students and dance enthusiasts.
On Pointe Awards is an award presented by AEBG which honors the biggest achievements in the company, as voted on by members of the awards selection committee, peers and dance learners. The awards ceremony also honors rising and promising young educators for outstanding artistic and technical merit in the dance education industry.